Judith MacKenzie has been teaching spinning and weaving most of her life. She is a renowned spinner and a frequent contributor to Spin-Off magazine. Judith writes and teaches extensively and is the author of three bestselling books and numerous DVDs. She is also passionately fond of angora, both fiber and bunnies!
Specialty Fiber Blends for Handspinners, Knitter & Weavers
In this class, we'll cover a bit of the history of angora as a rare, exotic fiber: from Turkish cloth that was used only for royalty, to its later use both as a luxury and medicinal fabric in Europe and its spread to the New World where the fiber has been the basis for many cottage industries.
We'll look at how both the fashion industry and artisans are using angora today. We'll consider new markets that could be available for this wonderful fiber by creating a variety of blends. We'll discuss what fibers blend well with angora and how the percentages of the blend affect the cloth. We'll also discuss possible ways of using second quality fibers effectively.
Samples of cloth knit and woven and felted, yarn both handspun and commercially spun will be displayed. Judith will bring a variety of blends that are currently available and some of her own sample blends.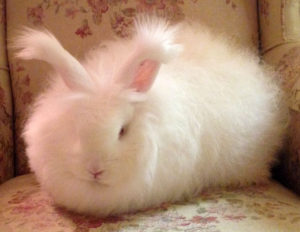 $45.00 per person, Lunch Included
January 21, 2017 *** 10 am to 2 pm *** Silverton Grange, Silverton, Oregon
Limited Space *** Register Now ***  Priority will be given to IAGARB members until December 21st.
SPONSORED BY IAGARB            
Contact: Catherine Fulbright 541-743-1919 | fulbrightfibers [at] gmail [dot] com