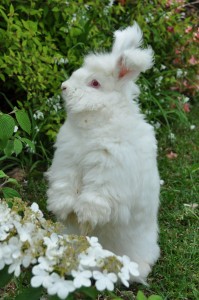 ♥
For four years I have been purchasing Angora yarn from Bungalow Farm Angora. I am always pleased with the good quality of the yarn and look forward to my next projects. So far I have knitted three very soft sweaters that have become my favorites. These hold up very well, even through multiple hand washings. In addition I used some of the yarn to weave the softest most beautiful fabric on my loom, which was then made it into a vest.
Judy Allen
Bob and Judy Allen Gilmore Looms 1032 N Broadway Ave. Stockton, CA   95205                                                  
Many, many thanks to you and Erin for the yarn (Angora Blizzard). It's like snow and warm kitties and cozy fireplaces all spun into one luxurious package.
Gratefully,
Leslie Petrovski
Yarn reviewer for Vogue Knitting