INTERNATIONAL ASSOCIATION GERMAN ANGORA RABBIT BREEDERS
FELTING CONTEST 2022
CALLING ALL FELTERS IAGARB has a challenge for you!
What is the most beautiful and technically well-felted accessory you can make with 125 grams of fiber? Angora Rabbit Wool makes luscious felt. It is soft, dense, warm and has beautiful drape. We want more people to try this humanely shorn wool with unique felting qualities. To encourage more felters to include angora wool in their work, we invite you to join our contest.
Properties of Angora Rabbit Wool
1. Wool sourced from IAGARB members has been gently and humanely shorn.
2. Angora wool is eager to felt. It will make a dense felt very quickly.
3. Angora blends well with other fibers, especially fine sheep wools.
4. The average diameter of the Underwool component of the coat runs between 8 and 12 microns. This results in a tight felt with a delicate feel.
5. The finished pieces can either be brushed to enhance the nap or shaved for a smooth fabric.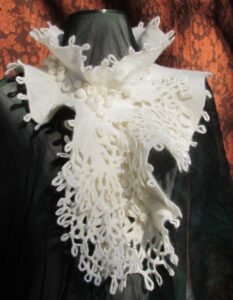 THERE WILL BE TWO CATEGORIES: FELTED HAT AND FELTED SCARF
1. There will be two categories for entry – HAT and SCARF 2. Prizes in each category will be Amazon gift cards in US dollar amounts 1st – $100.00,
2nd – $50.00, 3rd – $25.00
3. Maximum of 125 grams of fiber in the finished piece. 4. The piece must be at least 50% humanely shorn angora rabbit wool. 5. It is all about the fiber. No Nuno or laminated felt this time.
6. Natural colors or dyed fibers accepted.
7. You are welcome to enter one hat or one scarf or both.
8. Work must have been completed in 2022.
9. Deadline is midnight US Central Time, April 30, 2022 Our Judge is Pamela MacGregor, a renown felter. The decisions of our judge will be final.
To enter please go to IAGARB Home Page for full details.