by Rosalie Truong
For those of you who have stacked cages with a bottom tray, one way to have a "dropped" nest box is to attach it to the back of the cage.  I created one which looks like a smaller bird cage attached to my 24 x 36 maternity cage.  The overall dimensions are 19 in tall x 11 in wide x 18 in long with a side access door.  It is attached to the maternity cage, 4 inch from the bottom and the babies would have to jump up 7 inches to get to the floor of the cage.  I have tested it with 4 does now, 3 experienced breeders and one new mom.  The new mom only kindled one kit on the wire and the rest in the new nestbox.  All others had the babies in the correct area.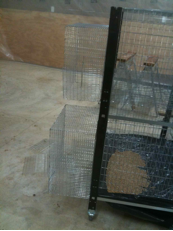 I used 0.5 x 1 in wire for the project.  The dimensions are hand drawn below.  You will need to cut a 12 x 18 inch hole, 4 in from the bottom, in the back of your stacked cage to allow access of the animal to the nest box.  With two stacked cages, I stagger the two attached nest boxes so the top babies don't poop on the bottom nestbox.  There is a small amount of overlap but it's not bad.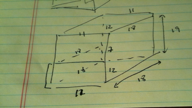 Dimensions of pieces needed:
| | |
| --- | --- |
| Large back panel | 19 x 18 |
| Roof | 11 x 18 |
| Side back panel | 19 x 11 |
| Side top panel above door access | 11 x 7 |
| Side access door | 12 x 12 ( bend 1 inch to wrap around the back piece |
| Bottom panel along cage | 18 x 7 |
| Floor | 11 x 18 |
You will also need 2 spring latches for the side access door to latch the door to the nestbox.   When installing the nextbox, I would suggest to attach the pieces closest to the maternity cages first, rather than building the box then attaching it to the cage.
Here are some completed pictures.  I did not place the rabbit there. She went inside on her own.
As you can see, the depth of the nestbox is a total of 7 inches. The top 4 inch overlap with the wire on the maternity pen and the bottom 3 inches hang below the floor level of the cage. Thus babies would have to jump 7 inches to get out.
A newborn litter and then a different litter at 10 days are shown above.  Notice that nobody has escaped with the 7 in barrier.  By 3 wks of age, they are able to jump out and go bug mom.