Our December 4th Registration weekend began with an angora hat making workshop.  Rosalie started by shaping her angora blend batting into a hood shape.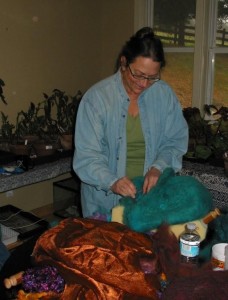 Jane made an adorable aqua colored angora hat.  She also made a delicious chicken and Minnesota wild rice soup for our lunch.  It really took the chill off a cold day!  Everyone contributed oodles of tasty snacks and a bottle of wine or two.  Or was it more than that?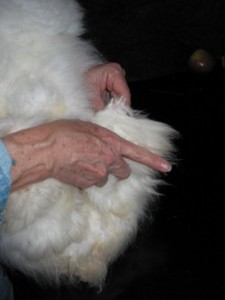 Joyce brought her spectacular doe, Alissa, for registration.  This rabbit was very clean and in superb condition.  Even the wool on the bottom of her feet was snow white, unmatted and prime length!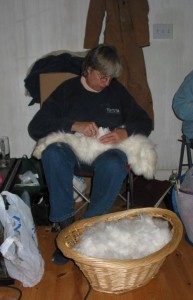 Joyce filled her basket with Alissa's wool.  She always does a beautiful job as she gently scissors the wool away.  Alissa's prime weighed 338.4 grams, 2nd grade short wool weighed 72.3 for a total of 410.4 (14.5 ounces).  The coat contained zero 3rd grade matts or stained wool.  This rabbit was in excellent condition!  Well done, Joyce!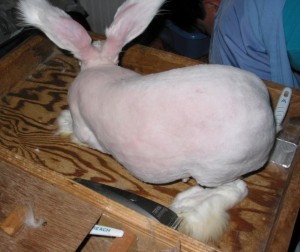 The high total for the day was Rosalie's exceptional buck, Rosalie's Hilger with a lustrous and well crimped coat of outstanding texture.  Rosalie's shearing technique is very clean.  After they are shorn, each rabbit wears a coat and is moved to the warm room in her barn.  Hilger registered at 440.5 grams (15.5 ounces) or 1762.4 grams annual production.
Sterling silver angora wool!  This is a shot of belly wool from one of the black rabbits tested.  It shined.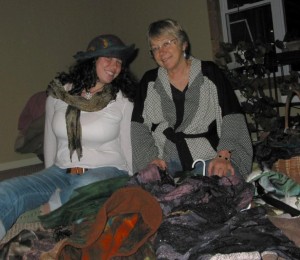 Sharon Kilfoyle showed some of her one of a kind designs to Kate.  Kate is wearing her newly made angora felt hat.  She also became an angora owner later that day.
Sharon pointed out the details of one of her pieces to Jane and Joyce.  This coat was made for a show in Japan.  The white trim is made out of 100% angora.
Sharon is expert at working with color via shibori dyed textiles and nuno felt.  She explained her pieces to us as she sifted through a kaleidoscope of handmade garments.
We enjoyed a full day of hat making, rabbit shearing, special Kilfoyle style inspiration and warm camaraderie.  Thank you, Rosalie, for your hospitality!  Cheers!