Announcing the Midwest December Shearing Party/Workshop Furlough
 Exquisitely Angora Farms is delighted to host a weekend fun of angora rabbit fun and workshop. Internationally acclaimed Artist and current IAGARB President Leslie Samson will come from the cold Canadian north to teach us about angora management and 2 felting workshops.
Location: Grand Army Farm in Labadie, MO, 1 hr west of St. Louis.
Schedule:
Friday December 12:
Angora Management Class 1-5 pm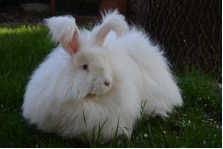 Teacher : Leslie Samson, Cost: $30
Help your Angora rabbits become all that they can be! In this class you will learn strategies used by European breeders that you can apply to maximize the genetic potential of any Angora rabbit. While the methods presented will focus on the development of the Angora in Germany, information about improved wool harvesting methods, breeding selection, temperature control and feeding is applicable to all Angoras.
The central question, which we will discuss, is this – Europeans started with the same commercial stock that North Americans did about sixty years ago. At that time, Angoras produced roughly half a pound of wool a year. Today, North American Angoras, from lines that do not include newly imported blood, have improved slightly to an average of around one pound per annum. The European record is set at just over five pounds of luxurious Angora fiber. How did they manage that?
Many of the answers can be found in the German style of judging which put breeding selection on the fast track to create the most enviable "Uber" Angora in the world.
In this class, we will study methods to benefit angora fiber producers. Cost of production is another vital topic, which we will cover. What is your wool to feed ratio? IAGARB registration procedures will be explained. Be prepared for copious information and spirited discussion!
Participants will need to bring: Paper and pen for notes and a list of 20 characteristics that describe your perfect Angora rabbit.
Level: No previous experience necessary.
Class Max: 20
Saturday December 13:
Registration and free shearing demo starting at 0900 AM.
Lunch on your own
Felted Flower Workshop: 1-5 pm
Teacher: Leslie Samson,
Cost, including materials: $45
Express your love of flowers and natural fibers at the same time. The objective of this class is to be able to create botanically accurate, recognizable, firmly felted flowers. These blossoms are beautiful as one of kind trims on hats, as jewelry, 3-Dimensional elements in tapestries or as elements in traditional floral arrangements.
We will use both needled and wet felt techniques. Using original patterns designed by the instructor, the participants will make a morning glory, a rose and leaves. If time permits, additional patterns for poinsettias, daffodils, sweet peas, violets and iris will be available. This is a very relaxed and light-hearted class. Includes patterns, a felting needle, and fiber supplies. The instructor has considerable experience as a professional floral designer and will make suggestions for arrangement and presentation of your flowers.
Level: No previous experience necessary
Saturday Dinner $20/person:
Deviled Quail eggs
Farm Fresh curry goat and rabbit stew or baked chicken
Sunday December 14:
8-9 AM
Lakeside Sunrise meditation
Enjoy a walk around the lake
Warm yourself with a farm fresh warm breakfast ($10/person)
Bubble Scarf Workshop 9-4pm
Teacher: Leslie Samson, Cost, including materials: $90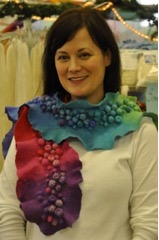 This class offers a fascinating technique for distinctive textures in felt. Because we will work with a premium angora / wool pre-felt, much of the basic work will be done for you. You will be able to spend all of your time focusing on manipulating the surface of your piece into a jaw-dropping scarf. The skills that you learn in this class can be applied to hats, purses, garments and sculptures.
We will use both needle and wet felting to create the scarves.Lunch on your own
Classes fill up fast so don't delay! Fees must be received to hold reservation.
Contact: Rosalie Truong, email: truongr [at] me [dot] com, cell: 314-302-7454
Limited modest accommodations are available in the farmhouse for those wishing to spend the night. $50/night/ room, occupancy 2 person per room, private bathroom
Warm breakfast available.