Save the Date – December 5 and 6 in/around Portland, Maine Weekend of Workshops and IAGARB Certification and Registration
at
Cumberland County Cooperative Extension
75 Clearwater Drive, Suite 104
Falmouth, Maine 04105
Block of hotel rooms are set aside at a rate of $69 per night – call and make your reservation today! Mention the IAGARB Certification/Registration Group to get this rate. Deadline is Nov 3. **A pet friendly hotel**
Clarion Hotel of Portland Maine
1230 Congress St, Portland, Maine 04102
(207)774-5611
Save your Spot Today, Space is Limited for these Two Amazing Workshops
All-day Felted Hat Workshop with Leslie Samson, President of IAGARB – see description below
All-day Felted Mittens Workshop with Leslie Samson, President of IAGARB – see description below
Opportunity to buy and sell 100% German Angora Rabbits – all weekend
Certify rabbits for the next IAGARB Registration March 6, 2016 – on Sunday
Register rabbits that were IAGARB certified not before September 6 with IAGARB judges, Leslie Samson and Michaele Bailey on Sunday
Contacts and questions:
Michaele Bailey, IAGARB Vice President and Judge
Penny Rice, IAGARB District 7 Director (207)991-8065                                                                                                              (207)843-0711
email: basketfulofbunnies [at] gmail [dot] com
email: penny [at] hillsiderabbitry [dot] com
WORKSHOP PRICES AND DESCRIPTIONS: $100 for one or $150 for both. Space is limited to 15 per workshop.
THE GORGEOUS GOOF PROOF HAT
Like magic! Take loose, soft, fluffy natural fibers and transform them into a wearable hat in less than one day. Felt hats are wind-proof, water resistant, lightweight and comfortably warm.
This is a new way to make a hat that is easy, predictable and a joy to design. In fact, design options are nearly limitless and very simple to incorporate into your hat. They include fabric lamination, felted in beads, spikes, curls and color, color, color!
We will be working with angora /wool blends that will yield a dense yet warm felt that will last for many years. We will use both needle felting and wet felting techniques.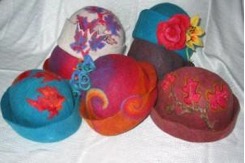 Level: No previous experience necessary
Class Max: 15
Students will bring: If you have some beads you would like to use, bring them, a beading needle and beading string. Please bring a sushi mat. Everything else will be provided. The class includes felting needles which are your to keep. Please bring a hard sided container in which you can safely take your needles home.
FELTED FITTED MITTENS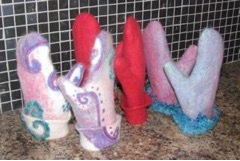 Be ready for next winter's icy blast. Felted mittens will keep your fingers toasty. Our mittens will be made with a blend of frosty white Angora and Merino wool.
Emphasis will be placed on controlled technique to make the mittens comfortably lightweight and easy to wear.
The thumbs of these mittens are fitted especially well because they are formed at the base of the palm instead of at its side. The fit is always perfect for the person who made them. Easy to wash up in the
kitchen sink. Very durable! Wildly bizarre gauntlets, sturdy ski mitts or pretty protection for winter walks, you will select the character of the pair you make. You may choose to decorate your mittens with three-dimensional curly-locks and / or colored inlay designs
Level: No previous experience necessary
Class Max: 15
Students will bring: Nada – Everything will be provided.