THE 2019 IAGARB ANNUAL GENERAL MEETING
APRIL 11-14, 2019
LABADIE, MISSOURI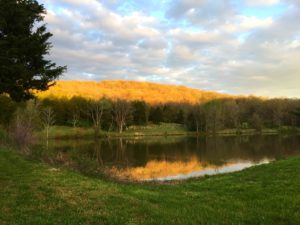 Thursday, April 11:
3-5 pm: Meet and greet at the Big Farm, site of 2019 AGM for the early birds. Wine and maybe homemade goat cheese will be served.  Tour the farm.
Friday, April 12:
    9-4 pm:   Rabbit Registration begins.
    9-12 pm: Felted Collar class with Jane Killpack, Session 1
    11 am to 12:30 pm:  Judges Seminar, Focus on the Standard
     1:30 to 2:30:  Judges Seminar, Focus on Wool
     2:30 to 5 pm:  Judges Test, Part 1 Written
     1-4 pm:   Felted Collar class,  Session 2
    5 pm:      Meet and greet and dinner at The Hawthorne Inn.
Saturday, April 13:
     9 am-4 pm: Rabbit Registration continues. 
     9 am -11:30 am:  Judges Test, Part 2 Practical
     9 am-1 pm: Intro to Barrier Dyeing– Shibori with David Keller
     5 pm: Dinner by Chef Maria Sakellariou, Head Chef of The Culinary Odyssey.  $35 per person
    7 pm: Rabbit Scrabble Game Challenge. Words are limited to rabbit terminology.
    More meet and greet and exchange of ideas.
    Spinning and knitting or other fiber arts encouraged.
    Show and tell.
Sunday, April 14
   9 am-noon:  Annual General Meeting
  12 pm:  Vietnamese sandwich lunch
   1 pm- 3 pm:  Ken Gossard, DVM, Guest Speaker, Pregnant Does and Animal Conditions
WORKSHOP DESCRIPTIONS:
Felted Collar Class Fine Cormo wool and locks of Teeswater or Wensleydale will be used to create a fun, one of a kind collar to be worn dressed up or down. There is massaging/rubbing but no rolling in this method. Basic felting experience is helpful. Half day class, two sessions offered.
Class fee: $40.  Materials fee: $49, materials fee is payable to the instructor the day of class. Please bring your enthusiasm and 2 – 3 bath towels and 1 hand towel to class. You may also want an apron or other means of protecting your clothing as this is a wet felting process.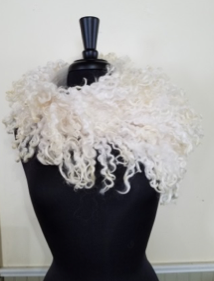 Jane Killpack is a farmer and fiber artist living on a small southern Minnesota farm. In addition to German Angora rabbits she raises Cormo and Teeswater sheep, Nubian dairy goats, Sebastopol geese, chickens, ducks and bees. She loves working with the farm's products by making goat cheeses, honey recipes (next up mead) and finding fun ways to use their animal's fiber!   Her love of felting started at a Midwest IAGARB meeting where she learned to make her first, of many, felted hats. She has since added scarves, shawls, and other garments to her felting "addiction".
Intro to Barrier Dyeing– Shibori      We will be dyeing fabrics, raw fibers (risky, messy, and difficult), top, and yarn. We'll be using traditional indigo, and Osage. There will be some technique done that you've never seen demonstrated (it's a secret don't tell anyone), and we'll be going over how to do more of this type of dyeing at home with common household items you probably already have. You'll need to bring anything you wish to dye, we are going to be working a lot with felted angora pieces, and yarns.  I will have fiber, yarns, and fabrics to dye that you can purchase.  Materials fee covers dye and chemicals.  $40 Class fee, $25 materials fee. 
David Keller is a fiber artist and consultant that grew up in northeast Missouri. He's been doing fiber arts for 28 years starting with crochet at 8 years old, dyeing in his mid teens, picked up knitting in his early 20s and has been running a dyeshop and teaching craft classes for the last 8 years. His hand spinning specializes in art yarns, color deconstruction spinning, radical insertions, tailspinning, and ergonomic technique. His dyework includes thousands of custom solid colors that he weaves together in colorway sequences that ranges from 2 to 15 colors and their gradations. He's kept German angora rabbits for 7 years and recently started breeding them. Rare breed chickens and quail are next. He loves film, music, and art, playing games, spending time with his son, playing with the dogs Dexter and Sinister (literally means right hand and left hand), and constantly runs thought experiments.
The IAGARB JUDGE'S SEMINAR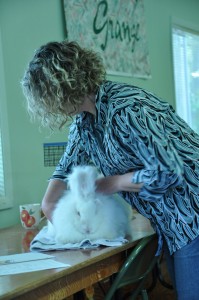 Every time you select your rabbits for breeding, every time you buy a rabbit and every time you decide which rabbit in a litter to keep and which one to sell – you become the judge of your own rabbitry.
This is a class offered to all of our members. It is open to anyone interested in learning more about German Angoras and the IAGARB system of judging.
In this class we will learn about the history of the German Angora in Europe and how it was selected over decades to be the wool producing Uber-Angora admired around the world for its superior fiber production. You will learn about the German goal setting system of quantifiable evaluation.
We will move step by step through the procedures of an IAGARB judging and registration. You will be better prepared to participate in our performance testing. As well, this information will help to conduct similar daily assessments in your own barn.
Fee for Class: $30.
JUDGES TEST
If you have been an IAGARB member for 3 consecutive years as of April 2019 and if there is a need based on membership for judges in your district, you may apply for the Judge's Test.
Fee for Test $30. (The application form is found on the AGM Registration Page).
AGM GUEST SPEAKER, KEN GOSSARD, DVM
To register for classes and events please see  AGM 2019 REGISTRATION PAGE